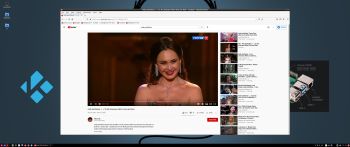 NEWS 210211 about RaspEX Kodi
I've made a new extra version of RaspEX Kodi 32-bit. This version is based on Raspbian (Raspberry Pi OS) and Debian Bullseye (upcoming Debian 11). The LXDE Desktop is replaced with LXQt, which has a more "modern look" than LXDE. Historically, LXQt is the product of the merge between LXDE-Qt, an initial Qt flavour of LXDE, and Razor-qt, a project aiming to develop a Qt based desktop environment with similar objectives as the current LXQt. In RaspEX Kodi Build 210211 I've kept Kodi at version 18.7 (stable). It was therefore possible to install the Netflix addon among many other addons. With Kodi 18.7 it is also easier to install extra repositories. Read about the best Kodi repos 2021.
Study all installed packages in Build 2102111…
Used kernels
5.10.14-exton-v7l+ (for Rpi 4) and 5.10.13-exton-v7+ (for Rpi 3 and 2).
Compatibility :: March 2021
Unfortunately not all systems made for Raspberry Pi 3 and 2 will run on the new Raspberry Pi 4 computer. They need to be upgraded with a new kernel. I therefore have to upgrade the systems I distribute. I.e. RaspEX, RaspEX with OpenCPN, exGENT, RaspEX BunsenLabs, RaspEX Kodi, RaspAnd Marshmallow, RaspAnd Nougat 7.1.2, RaspAnd Oreo 8.1, RaspAnd Pie, RaspAnd 10, RaspAnd 11 Build 210321, EXTON OpSuS Rpi, FedEX Rpi3 and RaspArch. I have until now (210321) only upgraded RaspAnd 11, RaspAnd 10, RaspEX, RaspEX Kodi, RaspArch, exGENT and RaspEX with OpenCPN. Read about the new Raspberry Pi 4.
SCREENSHOTS
1. The LXQt Desktop
2. Kodi 18.7 system info
3. Showing extra repos (not pre-installed)
This version has been replaced by Build 220218…

Read about my Android-x86 Systems – 10, Pie, Oreo, Nougat, Marshmallow, Lollipop and KitKat at

andex.exton.net – latest is AndEX 10 (with GAPPS) and AndEX Pie 9.0 (also with GAPPS)!

and
about my Android 11, 10, Pie, Oreo, Nougat, Marshmallow and Lollipop versions for Raspberry Pi 4 and 3/2 at

raspex.exton.se – latest is RaspAnd 11 (with GAPPS) and RaspAnd Oreo 8.1 (also with GAPPS)!