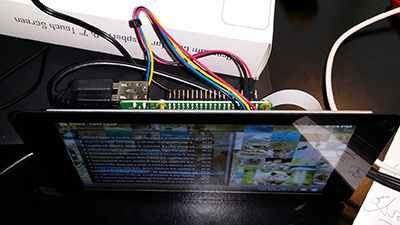 Great news 160627 about RaspEX Build 160426
I got the official  7″ Touchscreen Monitor for Raspberry Pi today. I started immediately to test the touchscreen running RaspEX. To my great pleasure (and surprise) the touchscreen worked perfectly out of the box! I.e. I didn't have to install any extra packages to make it work. According to raspberrypi.org only Raspbian OS is supposed to give full functionality without a physical keyboard or mouse.
Screenshot – RaspEX running a video in Kodi Media Center
Adding a virtual keyboard – Matchbox
Install it with sudo apt-get install matchbox-keyboard
Screenshot when Matchbox Keyboard is running

How do I enable right click?
Paste in the following lines in /etc/X11/xorg.conf.
Section "InputClass"
Identifier "calibration"
Driver "evdev"
MatchProduct "FT5406 memory based driver"
Option "EmulateThirdButton" "1"
Option "EmulateThirdButtonTimeout" "750"
Option "EmulateThirdButtonMoveThreshold" "30"
EndSection
Rotate the touch screen
Depending on your display stand you might find that the LCD display defaults to being upside-down, you can fix this by rotating it in /boot/config.txt.
Add: lcd_rotate=2
Scrolling with a finger in Firefox and/or Chromium Browser
Can't be fixed. It is also not working in Raspbian.
READ MORE ABOUT RaspEX with Kodi…