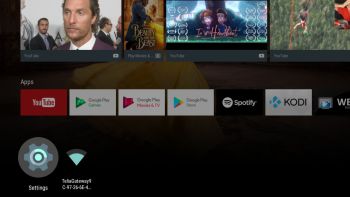 NEWS 171019 about RaspAnd Nougat 7.1.2 for Raspberry Pi 3
RaspAnd Nougat 7.1.2 Build 170805 can be installed in Windows using Win32 Disk Imager. This method has one disadvantage. Only about about 5GB can be used as data storage no matter which card you use. I have therefore today uploaded a new version, which can be (must be) installed using a Linux system. The new system from 171019 is basically the same system as the RaspAnd system from 170805. I have only added AIDA 1.47 and replaced Google Chrome with Firefox 56.0. Kodi has been upgraded from version 17.3 to version 18.0-ALPHA1. Now say, for example, that you use Micro SD card (preferable a class 10 card) of 64GB about 56GB can be used as data storage. This is of course a big advantage. NEWS 171102: Yesterday a member on this site wrote about how to get rid of the 5GB limit after Win32 Disk Imager has been used:
– write the image with Win32 Disk Imager
– start up Ubuntu or another Linux system – you can also use a Linux Live CD/USB stick
– start GParted – screenshot before resizing
– resize the DATA partition – screenshot after resizing
– done!

How do I install RaspAnd 7.1.2 Nougat version 171019?
Almost like any other Raspberry Pi system. As I say above the installation has to take place in Linux though. (From hard drive or while running a live Linux system from a CD or a USB stick). Follow my instruction below. The whole thing has to be done as root and exactly like this.
1. Unpack the downloaded zip-file (raspand-nougat-7.1.2-gapps-aptoide-tv-kodi-linux-install-599mb-171019.zip). You will get the folder raspand-nougat-7.1.2-gapps-aptoide-tv-kodi-linux-install-171019 with the folder boot and the system file system.img
2. Create four partitions of/on your Micro SD Card with Fdisk or GParted.
a) Part 1 for BOOT of 512 MB ; format as fat32 ; flag as boot
b) Part 2 for /system of 1024 MB; any filesystem
c) Part 3 for /cache of 512 MB ; format as ext4
d) Part 4 for /data; size the remain; format as ext4
When you are done with partitioning it shall look like the screenshot below shows. The needed partitions for RaspAnd are created with GParted in Linux.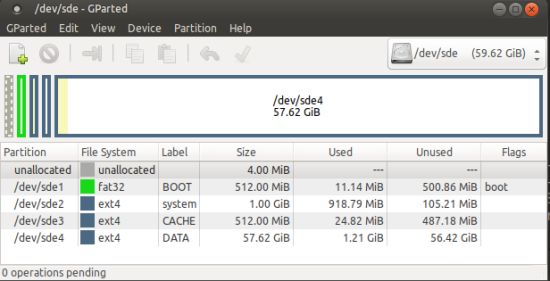 3. Now open up a terminal as root and run the command below. Make sure which name your SD card was given when you inserted it. I.e. /dev/sdb2 or /dev/sdc2 or as in the example here /dev/sdd2. Unmount /dev/sde2 first with umount /dev/sde2. Then:
dd if=system.img of=/dev/sde2 bs=1M
(Note: When you run the above command you'll have to stand in the folder raspand-nougat-7.1.2-gapps-aptoide-tv-kodi-linux-install-171019).
4. Then just copy every file in raspand-nougat-7.1.2-gapps-aptoide-tv-kodi-linux-install-171019/boot (11 files) to /dev/sde1. If not mounted already you can mount it with mkdir /mnt/sde1 followed by mount /dev/sde1 /mnt/sdd1
Note: You shall not do anything with /dev/sde3 and /dev/sde4. I. e.: Do not create folder /cache or /data. Watch this screenshot of the file structure on all four partitions when the installation is done.
This RaspAnd build has been replaced by Build 171215
READ MORE about RaspAnd 7.1.2 Nougat version 171215…
Android is a trademark of Google Inc.
Raspberry Pi is a trademark of Raspberry Pi Foundation